[ad_1]
A five-year project by local artist Longhua Xu is one more step towards realization with the help of National Park College.
Hot Springs artist Longhua Xu started a sculpture for Hot Springs in 2016 that was originally supposed to represent the conquistador Hernando de Soto, but now the work, titled "The Visitor," features a Native American woman on horseback.
"Since my wife and I have been living here since 1989, so it (makes Hot Springs) a second home. We try to give something to society and leave a mark on the house we live in," Xu mentioned. .
"So we decided to make a sculpture for the city," he said, noting first that he wanted to do a sculpture of de Soto, "because we think about why people come here … for waters ".
A few years later, they decided "we have problems with this… we think de Soto killed too many people, so we think okay, so we move on to the Indians," he said.
Video not playing? Click here https://www.youtube.com/embed/TX69JTTw1Ac
Xu first changed de Soto's sculpture on horseback to a generic Caucasian male and then to a Native American male, he said.
"I finished the drawing," he said. "I finished the drawing and I finished the sculpture, and we loved it then last year my wife (Shunying Chen) had a car accident and died, so I realized how dot the women, you know, in our life are so important to take care of society and take care of families, so i changed and i made a woman.
"After the death of my wife, I think: 'The woman does more good for society to take care of us', in addition there are not many large sculptures to do with a woman, especially with Indians. Everywhere I have traveled, it is always a male, head on horseback, I think the female deserves to have a beautiful sculpture, "Xu said.
After completing the latest version of the room, Xu said he started looking for someone to create a three-dimensional scan of the room, only to eventually locate someone in Oklahoma with the equipment.
"Unfortunately, I cannot move the sculpture there because it is very fragile," he said.
Oklahoma residents could bring the equipment to Hot Springs, "but it was costing a lot of money," he said.
Xu later learned that National Park College had a 3D scanner and contacted the college, who agreed to help.
The college said its Makerspace program uses a three-dimensional scanner to create a render of the part that can be used to make a mold and eventually replicate the work as a 12-foot bronze statue.
University staff spent most of the day on August 19 scanning Xu's sculpture.
"Getting a detailed analysis will probably take me a minimum of four to five hours," said Michael Karr, Makerspace program coordinator at NPC.
"He asked for our help and we have the means to help him. What I'm doing is using this 3D scanner, which uses two different cameras to create depth, and I'm using it to digitize this sculpture, and I hope Longhua can take this model and have it machined and can create a life-size sculpture, "Karr said.
"You'll get it machined from foam, CNC machines, and then the details will end up being 3D printed from resin as well," Karr said.
"It will probably take several months. There is usually a delay on CNC machines as they are. I would say probably around six months," he said.
Joel Rush, Director of Makerspace at NPC, was also present during the scan.
"Longhua called and we already worked on other art projects with him, and he called and said he had this problem that was going to cost a lot of money to fix and asked if I could help, or if we could help, and it turns out we already had everything in place on campus to be able to do that, which we are very grateful to at Makerspace, "said Rush.
"I think it's great anytime we can do something in college to support local artists or a big community project like this, that's the kind of thing we're here to do," a- he said, noting that he liked sculpture.
"I watch that kind of Longhua Hot Springs love story," Rush said.
Xu said he was grateful for the college's help. "They are super nice people," he said.
When completed, Xu said the sculpture will be placed near the intersection of Malvern Avenue and Bridge Street and that he hopes the entire project will be completed and installed in "eight months to a year."
Michael Karr, Makerspace Program Coordinator at National Park College, places dots on the Longhua Xu sculpture to help with a 3D scan of the artwork. – Photo by Tanner Newton of The Sentinel-Record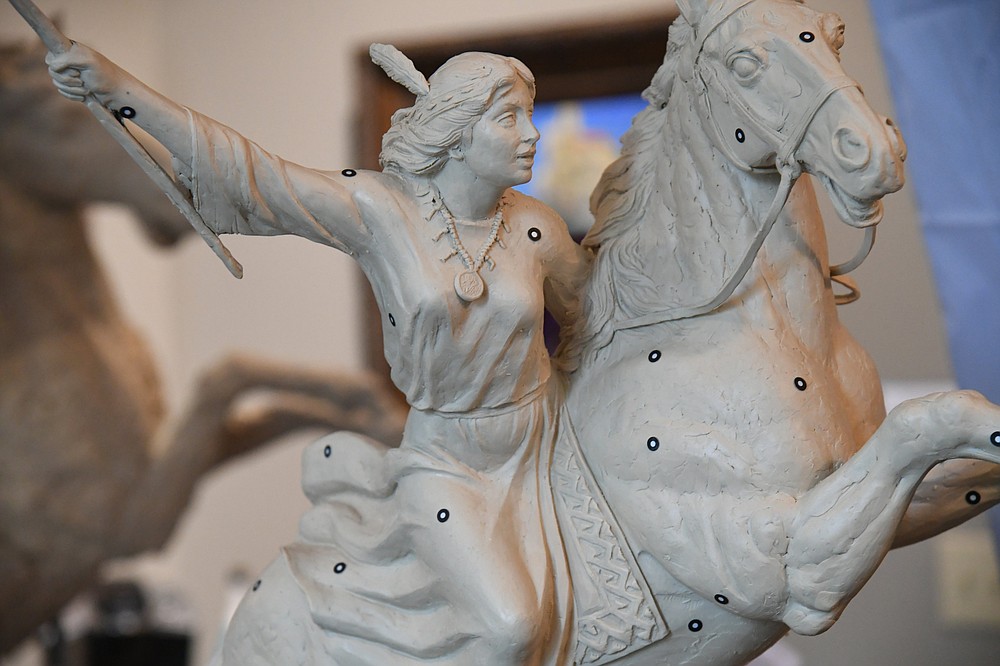 Dots are placed on the sculpture of Longhua Xu as part of the 3D scanning process. – Photo by Tanner Newton of The Sentinel-Record
[ad_2]